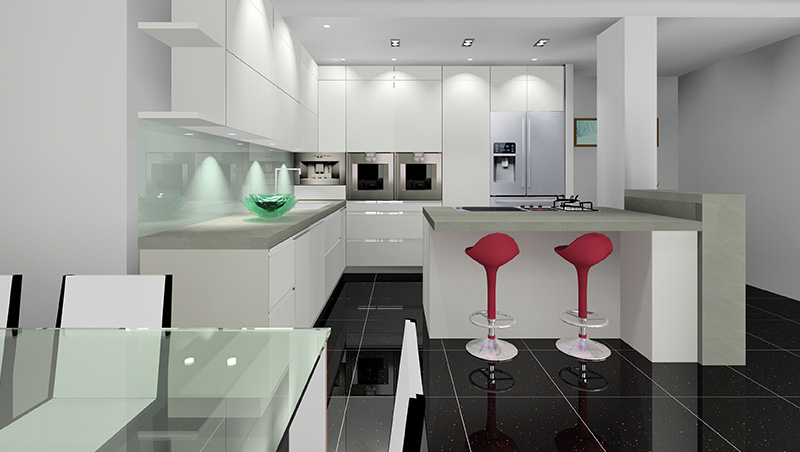 As with other technologies, the purchase of quality 3D design software represents a significant investment. Yet the return on this investment can be huge.
Smaller cabinet making businesses often operate on a tight budget, and can baulk at spending $1000's on a piece of software. Particularly when tools, rent, insurances and other costs don't leave much room to move.
But what if you look at it the other way around – that an investment in 3D software will give you more room to move. Here are some of the ways you get your money back – and more – when you invest in KD Max:
Win more jobs
KD Max helps you win more jobs. For starters, customers today want to see exactly what they are getting. They have high expectations – many people want to see 3D drawing of the proposed design, so if you don't deliver a drawing and your competitor does, there's a good chance you'll lose the job.
Plus, in providing 3D drawings to customers, you are showing these customers that you provide a complete service from design right through to install. It's a great way to build your business profile and reputation.
Create a point of difference
If you're operating in a competitive environment, KD Max could be your secret weapon.
It provides a great point of difference, helping your business stand out from the crowd.
Save time
KD Max can automate much of the quoting process. Once you've drawn up a design, it can generate cutting lists and pricing, enabling you to respond faster to customers' requests for quotes.
Cast your net wider
Many cabinet makers who are proficient in KD Max find themselves doing design work for other cabinet makers. It helps you grow your business in a way that's not possible without the design software.
So what does all this mean for you? As long as you are prepared to invest some of your time into learning how to get the most from the software, then an investment in KD Max will quickly pay off. You'll be notching up more sales, saving valuable time, and doing more types of work before you know it.
Written by Cabinets by Computer.