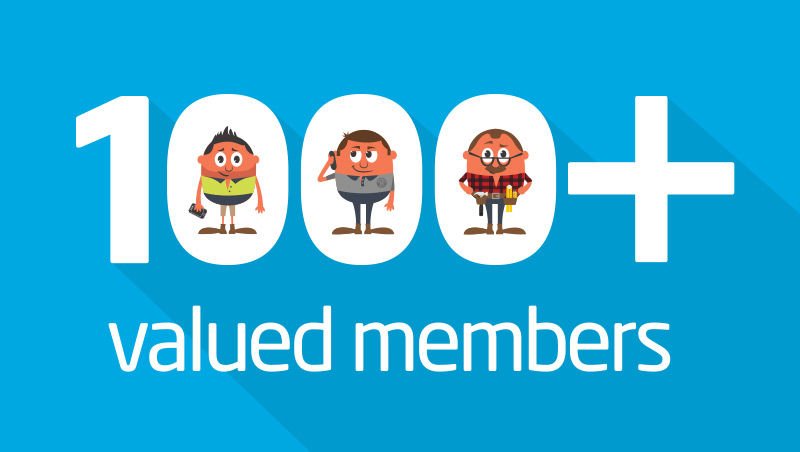 goCabinets recently achieved a huge milestone by surpassing 1000 loyal registered members. We thank each and every one of you for your continued support as we look forward to working with you in the years to come. To celebrate, we explore not only the importance of members but also the importance of member retention.
Most businesses want to increase membership counts or increase attendance totals, however rarely do businesses say they want to focus on retaining their existing members. It is these existing members, particularly those who hold an emotional attachment to the business, that are so crucial for businesses to move forward.
A high retention rate of members means happy and satisfied members, generally leading to these members being more likely to share their experience, information about their membership and the organisation to friends, family and colleagues.
There is no doubt it takes a lot of time and effort for this emotional connection to come to fruition, however it is certainly worth it's weight in gold when it does. On average, customers whom share this connection are worth up to 10 times as much as their first purchase or interaction. Statistics also show that 75 per cent of buying experiences are based on emotion.
Apple is one of the most successful companies that have achieved this connection on a global scale. Regularly going all guns blazing when it comes to customer engagement and in doing so, earning them loyal members by the millions not to mention the soaring profits.
On home soil here in Australia, Woolworths has been named the most valuable brand from this year's brand power measure and it's unsurprisingly so considering the great lengths they go to engage consumers through it's fresh produce strategy. For those interested, Telstra was close behind in second place in this year's brand power measure due to it's investment in customer engagement… Perhaps something that may come a little more surprising to any Australian.
So how do you achieve loyalty and a strong membership base? Simple really, through a strong and unified brand image and strategy. When we talk about your brand image, it isn't just your logo; it is everything your business is about. From your mission or why you do what you do, to the culture you instill within yourself and your team.
Having a positive brand image helps your members understand what your business is all about. Once your business' brand has been established and consistently implimented by all involved, recognition and loyalty to your business will grow.
Let's put it to the test, if you were given a choice between two near identical services, but only one of them made an effort to engage with you on an emotional level, where would your loyalty lie? We certainly know where ours would.
Written by Cabinets by Computer.