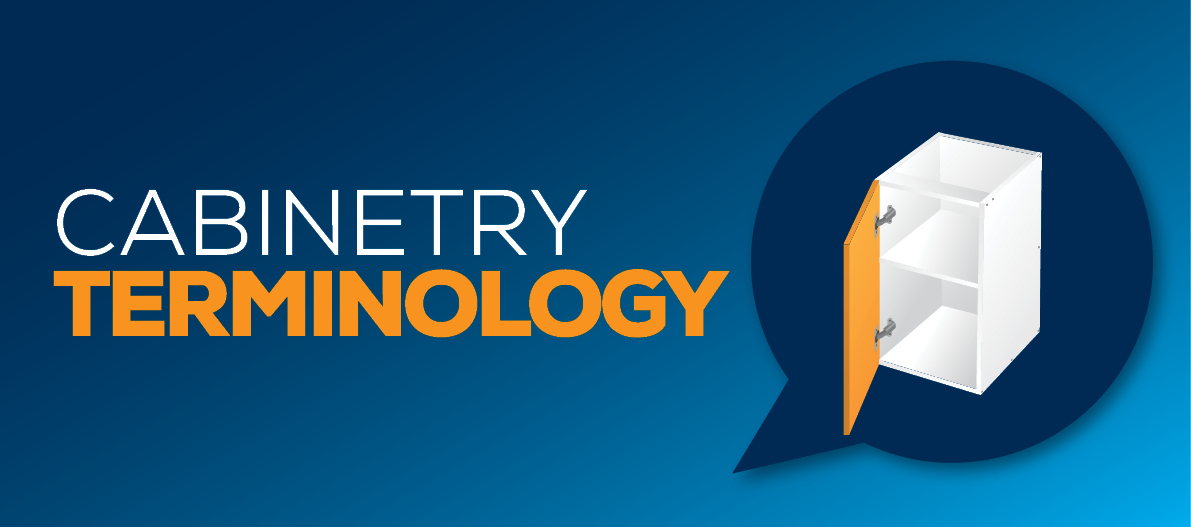 Cabinetry 101 - Understanding cabinet terminology
Commonly used cabinetry terms
Whether you're a seasoned cabinet maker or a novice builder, understanding cabinetry terminology is essential for delivering high-quality results. In this guide, we'll discuss the most commonly used terminology in the cabinetry trade.
Blind cabinet
A blind cabinet, sometimes called a "return cabinet", is a cabinet designed for corners where two rows of cabinets intersect. We use the term "blind" because one portion of the cabinet conceals the other cabinet's content. These cabinets are crucial for creating seamless and space-efficient corners.
Bulkhead
A bulkhead closes the gap between the top of your upper cabinets and the ceiling. Bulkheads can match the surrounding cabinetry and can conceal plumbing, wiring, ductwork or other utilities.
Carcase (or Carcass)
The carcase is the structural framework of a cabinet. It is the primary box of the cabinet and excludes doors, drawers and decorative features. It is the basis of cabinetry assembly and customisation. The carcase is typically made from white moisture-resistant particle board.
Drawer face
A drawer face is the front part of the drawer that is attached to the drawer runner / box. This is the visible and decorative component of the drawer.
Drawer slides
Drawer slides are the mechanical components that facilitate the movement and stability of the drawer. These slides are essential for ensuring easy access to drawer contents. They can be side-mounted or under-mounted (this is in reference to the drawer box).
Edge banding
Edge banding is a cabinetry and woodworking technique used to finish and protect the exposed edges of particleboard, MDF or other sheet materials. It involves applying a thin strip of material, typically PVC or ABS, to the edges of these substrates. This process not only enhances the appearance of the edges but also provides durability and resistance to moisture and wear.
End/applied panel
End, or applied panels, cover the end of a row of cabinets. They are typically made from the same material as the doors and create a finished look. Applied panels can also be used in between cabinetry of different heights (e.g. between a tall cabinet and a base cabinet).
Floating cabinet
Floated, or floating, cabinets are wall-mounted cabinets that don't extend to the floor. This gives them the impression of floating. These cabinets are particularly popular in bathrooms.
Inner drawers
Inner drawers are positioned behind cabinet doors. They create a sleek and minimalist look and are designed to maximize the use of space and improve organization.
Kicker
You use a kicker, kickboard or toe kick to cover the exposed adjustable legs along the bottom of the base cabinets. A kickboard creates a clean finished look.
Margins (or reveal)
The margins refer to the gap or spacing between cabinet doors and drawers when they are closed. Achieving a consistent reveal is crucial for a polished cabinet installation.
MDF
MDF stands for Medium Density Fiberboard. MDF is made by combining wood fibres and a resin binder. The mixture is formed into panels using heat and pressure. MDF is very smooth because the wood fibres used in the manufacture of it are fine and uniform. This also results in an edge that has a smooth cut.
Mitre join
Mitre joints are commonly used in woodworking and countertop installations where two pieces of material come together.
There are three common types of mitre joins: straight, masons, and dog leg. A straight mitre join is when two materials are cut at a 45° angle and joined to form a corner. A masons mitre, also known as a butt and scribe or hockey stick join, is strong and has minimal wastage. A dog leg mitre is a zigzag cut that joins two pieces of material.
Particle board
Particle board is made in the same way as MDF. The difference is that it is made small wood chips and not wood fibres. This gives particle board a much coarser texture and makes it less dense than MDF. Particle board is cheaper than MDF and plywood, but it tends to absorb moisture if not sealed correctly.
Shaker Style
Shaker style cabinet doors feature a simple, clean design with a flat centre panel surrounded by a raised frame. The frame can be plain or have decorative details such as beading or routing. The centre panel can be made from a variety of materials such as wood, MDF, or glass.
Soft close
Soft-close describes the feature in cabinet hardware, such as hinges and drawer slides, that slows down the closing action. This prevents doors and drawers from slamming shut and reduces wear and tear.
Summing it up
Understanding these essential cabinetry terms is vitally important for trade professionals working in the cabinetry industry. It enables effective communication with clients and suppliers while also ensuring precise execution of cabinetry projects.
goCabinets is an online cabinetry ordering portal that connects trade professionals, like you, to nearby cut-to-size manufacturers. We have a range of different practical resources to help you, including tutorials, guides, FAQs and more.
Become part of the goCabinets team today - click here to sign up!