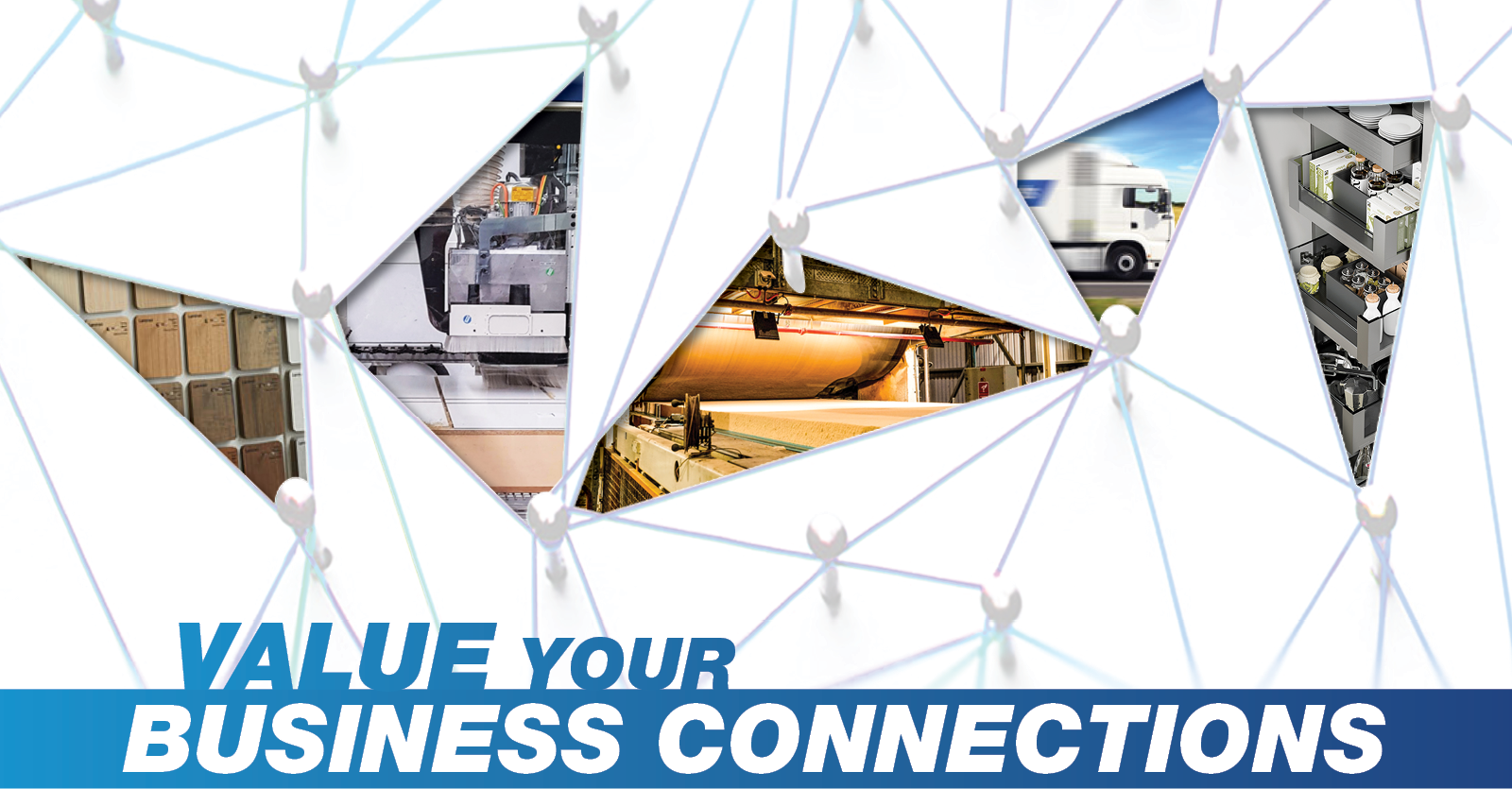 Value Your Business Connections
The world of business runs on connections. We're not talking about an individual basis like "His father got him a job here" type of connection, we're referring to the connections and relationships that businesses have with each other. In order for your business to run successfully (no matter what industry), you interact and rely on suppliers, couriers, support teams and so much more.
As a cabinet maker, tradesman or cut-to-size manufacturer, you might deal with several different businesses on a regular basis. You would have your material & board suppliers, perhaps you outsource to external businesses for cutting, painting, or even installation. Then, in the case that you operate machinery or use certain software, you have external support staff who help you through training or troubleshooting.
What's the importance of connections and business relationships?
Functionality
No matter how much you may want to, you obviously can't wear every hat and perform every important task required for your business to succeed. So, the core importance of building business connections, is that they make your life easier and reduce the burden and strain that you would otherwise have to endure.
Familiarity
After prolonged involvement with another business, you get to learn their ways of doing things, just as they learn your preferred methods and solutions as well. The speed and peace of mind that you get from dealing with someone you know is an immeasurable benefit.
How do you make these connections?
This is an obvious question to answer for most connections. Suppliers of all kinds are constantly trying to get in front of you. It can mostly be a case of narrowing down the right choice for you.
However, in some cases it can be hard to find where to start. Not every business is heavily pushing their service, and sometimes there might be a suitable business partner in your own suburb and you don't even know it. This is why goCabinets is proud to provide a simple connection to a crucial service.
Cut to Size has become a massively growing service among trades as the benefits of outsourcing become more present than ever, allowing smaller cabinet makers and tradies to cater to larger projects than they would previously be capable of. However, while the benefits are grand, it has previously been difficult for these businesses to identify or reach Cut to Size businesses in their area. The beauty of goCabinets is that it allows users to seamlessly connect with their nearest manufacturer and build an instant and hopefully, lasting relationship.
Every business, from the largest to the smallest has numerous connections that they require and utilise to help them flourish. While you may already use and appreciate your existing relationships and connections, hopefully this article serves as encouragement to look outside your current bubble and see what other connections and opportunities are out there to help better your business.
Cabinets by Computer is the team behind goCabinets and we pride ourselves on the extensive range of solutions we offer for small to large cabinet makers and tradesmen. Just as we preach the importance of building connections and relationships with others, we also put this into action with our own support and consultant teams. We are big believers that a relationship doesn't end with a purchase, it starts with one. If you want to explore opportunities for growth in your business, get in touch with our team today for a friendly discussion.